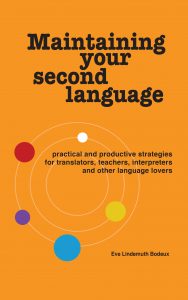 Eve Lindemuth Bodeux's book, Maintaining Your Second Language:  practical and productive strategies for translators, teachers, interpreters, and other language lovers, received high praise in a review by Kinga Macalla of the Bristol Language School.
Macalla states, "Maintaining Your Second Language is a practical and approachable guidebook for any second-language user, linguist, tutor, translator or language enthusiast. As enthusiastic as I sound I cannot recommend this book enough!"
To see the full review, visit the article at on Macalla's blog. To purchase a copy of the book in paperback or Kindle, visit Amazon. To purchase the iBooks version, visit the Apple store.