Decoding a Translation Memory Analysis
If you have never read a translation memory analysis report before (or even if you have), they can be confusing. Below is an example of an analysis of a document to be translated. Such a report is generated when a document or set of documents in analyzed against a translation memory using a translation tool such as WordFast, SDL Trados or other.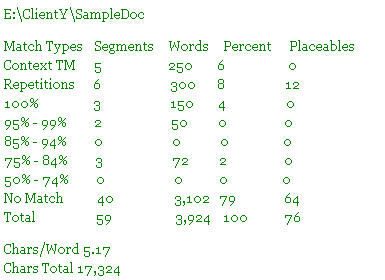 Match Types define which unit is being analyzed in the labels in the row at top of the report (segments, words, percent, placeables).
Context TM matches are "better" match than a 100% match. In a context match, there is a 100% match and the source language and target language segments must also have the same document context (be preceded and followed by the same content).
100% matches are those with a previously completed translation or translations–meaning, those contained in a translation memory that is being used.
Repetitions are similar to 100% matches, but repetitions are only matches within the current document text being analyzed, not with past translations.
The remaining percentages listed in the above sample analysis report from 50% to 99% are normally referred to as fuzzy matches. Fuzzy matches are matches between translated and new content that have some level of similarity but are not an exact match. The percentage noted indicates at what level segments in the new document match the translation memory (or other content within the document).
No match means that there was no match with previously translated content (the translation memory) or other content within the current document. These words are considered "new" content.
Placeables are tags or content that should normally be moved from the source (original) language to the target language (translation), such as tags or numbers.
Tags: Consistency, Definitions, L10N, Localization, Productivity, Translation, Translation Memory
Posted in: Articles